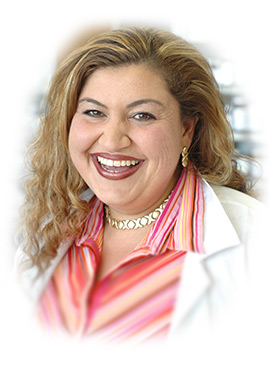 SAHAR SWIDAN, PHARM.D., R.Ph., ABAAHP, FAARFM, FMNM, FACA
Dr Swidan is President and CEO of NeuroPharm and Former CEO of Pharmacy Solutions in Ann Arbor, MI and Adjunct Associate Professor of Clinical Research and Leadership at George Washington University School of Medicine and Health Sciences, and Adjunct Clinical Associate Professor of Pharmacy at Wayne State University.
She received her Doctor of Pharmacy degree and completed a 3-year research Fellowship in Bio-Pharmaceutics and Gastroenterology at the University of Michigan. Following her fellowship, she was Director of Pharmacy at Chelsea Community Hospital and the clinical pharmacist for the inpatient head and chronic pain service.
Dr. Swidan is board certified and an advanced fellow in anti-aging and regenerative medicine. She is an internationally renowned speaker in the areas of pain management, headaches, and HRT. She has authored several book chapters, articles, and patient education material in head and general pain management and personalized medicine.
Most recently, Dr. Swidan has contributed in authoring "Metabolic Therapies in Orthopedics, Second Edition". This edition provides continued knowledge on how optimizing metabolic pathways can improve the success of regenerative therapies through emerging technologies, integrative approaches, clinical research, and compelling evidence from over 30 experts. Dr. Swidan provides key insight in the areas of drug-related muscular pain and sarcopenia and the effects of hormones on the musculoskeletal system. 
Dr. Swidan Co-Edited and Authored a book with many thought leaders from around the globe titled Advanced Therapeutics in Pain Medicine which aids clinicians in advancing their current toolbox in the treatment of various pain syndromes.
Read Sahar's complete CURRICULUM VITAE
Summary
In the world of pharmaceutical medicine, the pharmacist is the gatekeeper of knowledge and science. In the world of clinical pharmacists, Dr. Sahar Swidan, Pharm.D. BCPS, ABAAHP, FAARFM, FACA is a true visionary and key opinion leader.
For the past 25 years, since obtaining her Doctor of Pharmacy degree and then serving a 3-year tenure as research fellow in Bio-Pharmaceutics at the University of Michigan, Sahar has served in many leadership roles across many levels of care, from hospital to private and retail pharmacy services. Not only has she served patients directly in those roles, Sahar has also conducted trainings and continuing education for medical providers, both physicians and pharmacists. Her teachings focus on treatment trends and theory in the areas of pain management, Bio-Identical hormone replacement, and functional and regenerative medicine, domestically and internationally.
Along with her professional success, Sahar continues to advance her own knowledge of cardio-metabolic and functional medicine by completing a Master's degree in that field. She is convinced that these areas are the future of medicine.
All this means nothing if not brought down to a pragmatic level that effects the lives of patients. At the heart of it all, Sahar sits down, listens, and works closely in partnership with physicians to help enhance the health and life of their patients. This is her passion and this is, ultimately, what motivates her and allows her to spread a vision of change across both the medical and lay communities.
I. Major Highlights
Sahar Swidan is a talented and seasoned health care provider and executive with over 25 years of experience in pharmacy services, and consulting. She brings a wealth of expertise with particular strengths in areas such as educational training of medical providers, evidence-based formulary design and development for compounding pharmacies, expert in drug interactions and avoidances, expert in clinical hormone replacement and pain management. Other major strengths include her effective style in interpersonal and cultural relationship management between pharmaceutical and clinical teams of people. With an abundance of international experience, Sahar has a strong understanding of pharmaceutical trends and healthcare throughout North America, Europe, Africa and the Middle East.
II. Current & Past Work
Currently, Sahar operates a private specialty compounding pharmacy, Pharmacy Solutions, which she founded in 2000. Sahar serves as the Chief Executive Officer of this pharmacy as well as Neuropharm and SahaRx Skin Care. She has worked with many companies ranging from small scale start –ups to mid and large size hospitals, offering pharmaceutical consulting services across an array of disease states including neurological issues, pediatric medicine, hormone replacement and pain management. Sahar was an integral part of educational initiatives that have propelled groups such as A4M to be the North America's leader in physician functional medicine education. Pharmacy Solutions has been in business with Sahar's leadership for over 16 years and is one of the major national pharmacies and leaders in providing the best and most innovative compounded products in the industry.
Prior to forming Pharmacy Solutions, Sahar served in many leadership roles at Chelsea Community Hospital. She was Director of Pharmaceutical Services for the hospital as well as Clinical Pharmacist for the Head and Chronic Pain Unit for over 15 years. Under her guidance, Chelsea Hospital Pharmacy Department won numerous awards for innovative clinical patient care and underwent a stunning transformation financially.
III. Board Experience
In addition to her executive career, Sahar serves on several advisory boards and numerous affiliations. Aside from serving as a Board Member for DUR Michigan Medicaid, she also holds membership positions with Michigan Medication Safety Coalition, and Michigan Pharmacists Association. Previously, she served on the boards of American Headache Society and Blue Cross & Blue Shield of Michigan-Pharmacy. She served as former President for Southeastern Michigan Society of Hospital Pharmacists as well as Washtenaw County Pharmacist Society. She is also deeply committed to the cause of pediatric medicine within Michigan offering her consulting services pro-bono to all the major hospitals and helped to standardize the concentrations of compounded medications for pediatric patients across the state of Michigan to decrease dispensing and dosing errors.
Over the past twenty five years, Sahar has established herself as a thought leader in the field of pharmaceuticals and physician education. Her writings have been featured in over 25 national and international clinical journals and publications. With multiple public speaking engagements with over 40 national and international companies and businesses, her face-to-face engagements with the medical professionals are highly valued and sought after. She is a frequent guest speaker and lecturer for A4M in the areas of functional medicine and pain management and has authored many articles, book chapters and books.
IV. Education & Certifications
Sahar Swidan obtained her Bachelor's Degree in Biochemistry from Eastern Michigan University. She holds a Doctor of Pharmacy degree from the University of Michigan in Ann Arbor, Michigan. She also completed a post-doctoral fellow ship in BioPharmaceutics at the University of Michigan. She is also board certified in anti-aging and functional medicine and is currently completing a master's degree in Cardio-Metabolic and Functional Medicine.