Advanced Therapeutics in Pain Medicine
Edited By Sahar Swidan, Matthew Bennett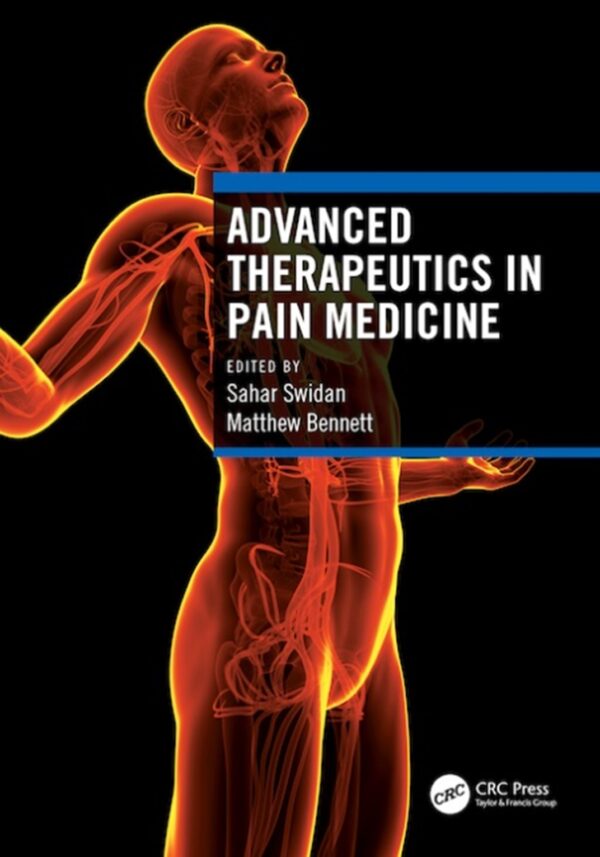 Book Description
Chronic pain places a tremendous burden on both the patient and the healthcare system.  The use of opioids to address pain has resulted in negative impacts. As practitioners work to undo the current opioid crisis, options to manage pain need a new approach. Advanced Therapeutics in Pain Medicine offers pioneering approaches to this intransigent problem providing a functional medicine approach toward treating pain.
This book is dedicated to the advancement of non-opioid therapeutic options that offer real progress in reaching a future of better pain management. With an emphasis on pathophysiology, chapters review various types of pain and propose comprehensive treatment plans. These include manual therapies, novel pharmacologic and plant-based approaches, hormonal effects on pain pathways, as well as psychological and lifestyle interventions.
Features
Written by a multi-disciplinary team, the book provides clinicians with multiple non-opioid treatment considerations.
Enables practitioners to shift from a "one size fits all' treatment approach toward individualized patient care.
Includes case studies to help educate the provider on how to implement treatment plans in practice.
Written by a team of physicians, pharmacists, psychologists, and researchers, this important book offers a much-needed step forward in optimizing pain care and benefits practitioners who care for patients experiencing chronic pain.
Table of Contents
Physiology of the Pain System
Matthew Bennett and Sahar Swidan
Neuro-Endocrine-Immune Dysfunction in the Chronic Pain Patient
Matthew Bennett
The Opioid Epidemic
Matthew Bennett
Endogenous Cannabinoid Receptors And Medical Cannabis
Jeffrey S. Block
Sex Hormones and Pain Control
Pamela W. Smith
Managing Pain in the Presence of Autoimmune Disease
David Bilstrom
Fibromyalgia- A Comprehensive Perspective
Sahar Swidan and Kai-Uwe Kern
A Functional Approach to Gynecologic Pain: Integrative Gynecology For The Non-Gynecologist
Randy A. Fink
Headache Disorders
Todd D. Rozen
Biotensegrity: Advancing Pain Diagnosis & Treatment by Rethinking Anatomy and Biomechanics
Bradley D. Fullerton
Myofascial Trigger Points, Sensitization, and Chronic Musculoskeletal Pain: Evaluation and Management
Vy Phan, Jay P. Shah and Pamela Stratton
Mycotoxins and Tick-borne Disease Increasingly Common Causes of Unexplained Chronic Pain
Ellen Antoine and Scott Antoine
Regenerative Medicine In Pain Management
Sharon Mcquillan and Rafael Gonzales
Adenine Dinucleotide: Past, Present, and Future
Richard F. Mestayer and Hyla Cass
Ketamine Use in Pain Management
Sahar Swidan and Charles E. Schultz
The Limbic System, Oxytocin, and Pain Management
Sahar Swidan and Charles E. Schultz
Low-Dose Naltrexone: Immune and Inflammatory Mediator Extraordinaire
Sahar Swidan
Topical Pain Medications and Their Role in Pain Management
Sahar Swidan and Mara Rubin
Herbal and Supplement Use in Pain Management
Sahar Swidan and Mara Rubin
Pea-A Novel Fatty Acid In The Treatment Of Pain
Sahar Swidan
Lifestyle and Its Relationship to Pain
Hal S Blatman
Developing Education and Treatment Protocols for Substance Use Disorders that are Socially Responsible, Accountable and Integrated
Brian Spitsbergen
Detoxification Strategies
Ahmed Zaafran and Jennifer Kljajic
Narcan Use in the Opioid Epidemic
Sahar Swidan and Ellen Klepack
Psychological Intervention: Cognitive-Behavioral Therapy
Samantha Rafie, Sarah Rispinto and Sarah Martin
Editor(s)
Biography
Dr Sahar Swidan, PHARM.D., ABAAHP, FAARFM, FACA is Prior President and CEO of Pharmacy Solutions in Ann Arbor, MI and Adjunct Associate Professor of Clinical Research and Leadership at George Washington University School of Medicine and Health Sciences, and Adjunct Clinical Associate Professor of Pharmacy at Wayne State University. She received her Doctor of Pharmacy degree and completed a 3-year research Fellowship in Bio-Pharmaceutics and Gastroenterology at the University of Michigan. Following her fellowship, she was Director of Pharmacy at Chelsea Community Hospital and the clinical pharmacist for the inpatient head and chronic pain service.
Dr. Swidan is board certified and an advanced fellow in anti-aging and regenerative medicine. She is an internationally renowned speaker in the areas of pain management, headaches, and HRT. She has authored several book chapters, articles, and patient education material in head and general pain management and personalized medicine. Most recently, Dr. Swidan has contributed in authoring "Metabolic Therapies in Orthopedics, Second Edition". This edition provides continued knowledge on how optimizing metabolic pathways can improve the success of regenerative therapies through emerging technologies, integrative approaches, clinical research, and compelling evidence from over 30 experts. Dr. Swidan provides key insight in the areas of drug-related muscular pain and sarcopenia and the effects of hormones on the musculoskeletal system. Dr. Swidan is currently Co-Editing and Authoring a book with many thought leaders from around the globe in advanced therapeutics in pain management.
Dr. Bennett is a fellow of the American Academy of Orthopedic Surgeons.  He received his medical doctorate at Upstate Medical University in Syracuse, New York where he was invited to complete a surgical internship and orthopedic residency program.  He continued his training in operative and non-operative spine care at the multidisciplinary Texas Back Institute in Plano, Texas.
He has been a physician leader and educator teaching traditional surgical skills in cooperation with industry partners.  Recognizing the opportunity to look beyond our current paradigms, he became board-certified and an advanced fellow in anti-aging and regenerative medicine.  He currently serves as medical director of Spine Care and Pain Management in a busy clinical practice at United Health Services Medical Group in Binghamton, New York.